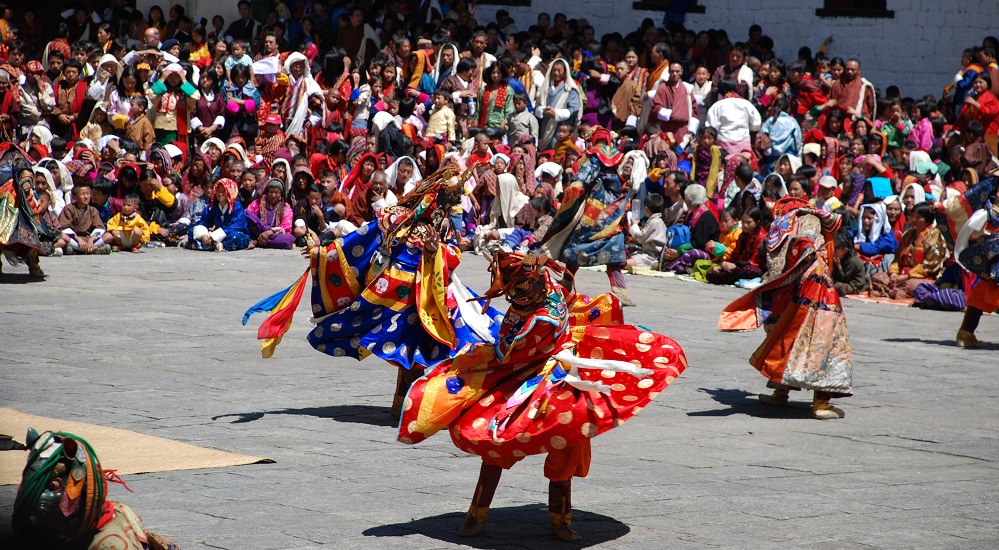 PARO TSHECHU (FESTIVAL)
Duration – 6 nights / 7days
Because this festival has the easy access of being located near the only airport in Bhutan, it is one of the most visited. By visiting only Paro and our capital, Thimphu, you can stay in some of Bhutan's best hotels and enjoy the conveniences of easy access and modern amenities.
Day 1:
Arrive at Paro, clear immigration and customs, I will meet as you exit the airport, and take you to the hotel. Visit the National Museum of Bhutan and Paro Dzong. Stay overnight at hotel.
Day 2:
Full day at the Paro Tshechu festival. . Stay overnight at hotel.
Day 3:
Full day Paro valley sightseeing. Walk/hike to Tiger's Nest, Taktshang Monastery. Lunch at Taktshang teahouse with its spectacular view of the famous monastery. . Stay overnight at hotel.
Day 4:
Drive to Thimphu; visit the National Library to see some unique and historic books. Our books are not hardbound in the typical manner. Next the traditional Painting School and then the Traditional Paper Factory. After lunch, souvenir shopping or more touring, as you wish. Dinner and overnight at hotel.
Day 5:
Day excursion to the 13th century Phajoding Monastery. Dinner and overnight in Thimphu.
Day 6:
Return to Paro and the festival. Farewell dinner and overnight at hotel.
Day 7:
Drive to airport in time to check in for your early morning departure.