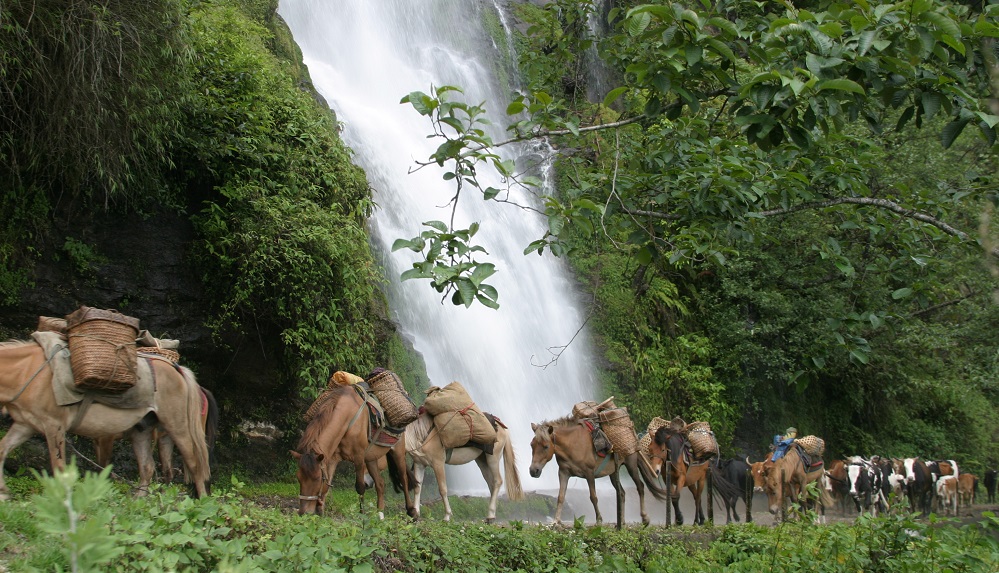 Trekking in this Himalayan kingdom is one of the most wonderful experiences a visitor can have. It is quite different from other parts of the Himalayas. The country ranges from the dense forest of subtropical jungles to the alpine shrubs, endowed with a wide spectrum of Himalayan flora and fauna.
The land is thinly populated with scattered settlements. A person may walk for several days before sighting a village.
The beautiful landscape, unique architecture, snowcapped peaks, colorful dzongs, fluttering pray flags and friendly people leave an everlasting impression on the visitors. Trekking permits are required for all parties. A trekking day usually consists of five to six hours of walking. Pack animals, ponies and yaks for the higher altitude treks, are provided for carrying provisions, baggage and equipment. All necessary camping equipment and food preparation is provided by Dragon Tours and Treks.
All trekking guests are accompanied by a trained guide, a cook, an assistant and at least one horseman. The support crew walks ahead of the trekking party each day and pitches camp before the trekkers arrive. Altitude sickness is an acute problem for trekkers, in Bhutan. Almost all of the designated treks go above 3,000 meters (9843 ft.). Those who have not properly acclimatized or suffer from altitude sickness are advised not to trek. If you are not used to high altitudes it is a good idea to start slowly and allow yourself to acclimatize.
Dragon Trekkers and Tours offer a number of treks a wide range of treks. Each trek has its own beauty and charm. A few are difficult treks are suited for people of good physical fitness. Yet others are for any age group, not too long or strenuous, with visits to places of interest.
Seasons in Bhutan
| | | |
| --- | --- | --- |
| Spring | March, April and May | Flowers blooming around and warm. |
| Summer | June, July and August | Green and warm and little wet. |
| Autumn | September, October and November | Little dry and cool at night and morning and warm day. |
| Winter | December, January and February. | Dry and cold. |