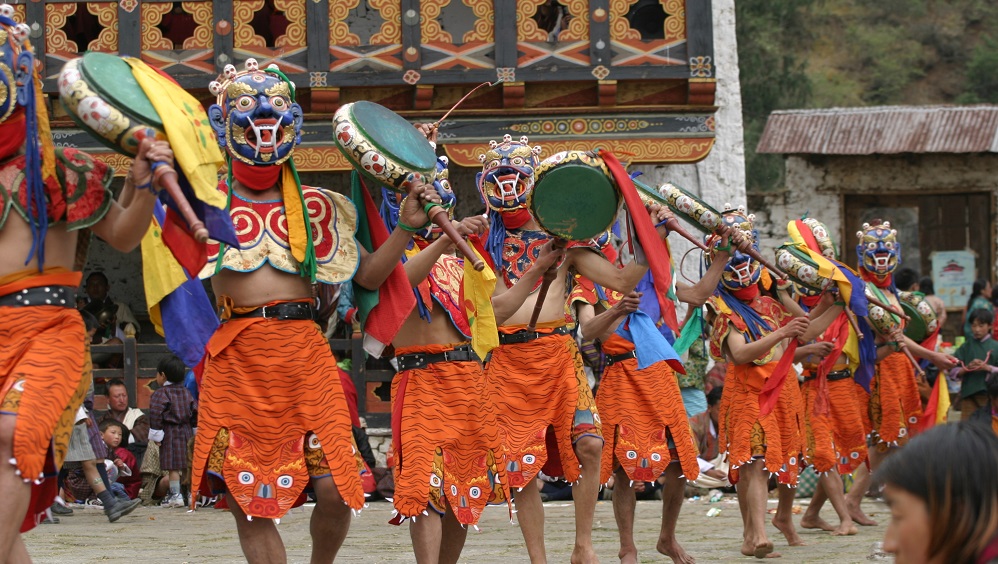 URA TSHECHU FESTIVAL (FESTIVAL)
Duration – 12 nights/ 13 days
Ura is located in a beautiful and secluded valley in Central Bhutan just beyond the terminus of most tourist itineraries. As a result, this festival remains one of the most traditionally authentic.
Day 1:
Arrive at Paro, clear immigration and customs, I will meet as you exit the airport, and take you to the hotel. Visit the National Museum of Bhutan and Paro Dzong. Stay overnight at hotel.
Day 2:
Walk/hike to Tiger's Nest, Taktshang Monastery. Lunch at Taktshang teahouse with its spectacular view of the famous monastery. Stay overnight at hotel.
Day 3:
In the morning, hike to the Kila Goenpa nunnery for superb views in all directions – the Haa Valley, Taktshang Goenpa, the Paro valley. Lunch at hotel. Afternoon drive to Thimphu, our capital. Dinner and overnight at hotel.
Day 4:
After breakfast, visit the National Library to see some unique and historic books. Our books are not hardbound in the typical manner. Next the traditional Painting School and then the Traditional Paper Factory. After lunch, souvenir shopping or more touring, as you wish. Dinner and overnight at hotel.
Day 5:
Day excursion to the 13th century Phadjoding Monastery built by Phajo Drugom Zhigpo. Lunch box will be served on route. Dinner and overnight at hotel.
Day 6:
Morning drive to Punakha via Dochu Pass (3100m). On clear days there are excellent views of the Himalayas. Afternoon sightseeing of the Punakha and Wangdi valleys. Stay overnight at hotel.
Day 7:
Drive to Trongsa with a stop at Chendebji Chorten. Check in and lunch in the hotel. In the afternoon, make an excursion to Kuenga Rabten, an ancestral home of the Royal Family. Stay overnight at hotel.
Day 8:
In the morning you will wander around the Trongsa Township and visit the Dzong. After lunch you will drive to Bumthang. Dinner and overnight at lodge.
Day 9:
This is a day of visiting holy sites: monasteries and dzongs, including Jambay Lhakhang, Kurjey Lhakhang, Tamzhing Monastery and Kuenchosum Lhakhang After lunch you will visit the Jakar Dzong known as the "Fortress of the White Bird." Stay overnight at hotel.
Day 10:
Drive to the isolated village of Ura for a full day at the Ura Tshechu festival. Return to Bumthang for overnight.
Day 11:
After breakfast, begin our return west by driving through Trongsa back to Wangdi. Stay overnight in hotel in Wangdi.
Day 12:
Drive from Wangdi to Paro via Dochu Pass and Thimphu. Farewell dinner and overnight at hotel.
Day 13:
Drive to airport in time to check in for your early morning departure.