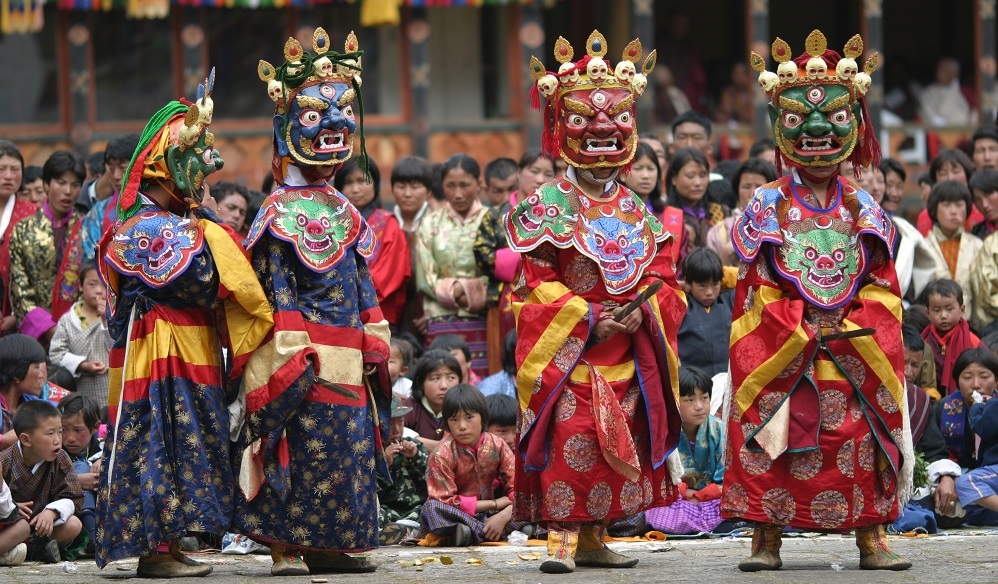 PUNAKHA DROMCHOE (FESTIVAL)
Duration – 12 nights / 13 days
Punakha was an ancient capital of Bhutan and it still one of the residences of our head Lama, the Ja Kempo. The Dzong is one of the most important and stunning buildings in Bhutan. The walled fortress contains a number of important temples, sprawling courtyards. Situated at the auspicious confluence of two rivers, against a backdrop of gentle hills, Punakha Dzong is a spectacular venue for a festival. This tour allows you to see the festival opening and closing festival days, while in the interim traveling through some really beautiful parts of the country and visiting another very important Dzong, Trongsa.
Day 1:
Arrive at Paro, clear immigration and customs. I will meet as you exit the airport and take you to the hotel. Visit the National Museum of Bhutan and Paro Dzong. Stay Overnight at hotel.
Day 2:
Walk/hike to Tiger's Nest, Taktshang Monastery. Lunch at Taktshang teahouse with its spectacular view of the famous monastery. Stay overnight at hotel.
Day 3:
In the morning, hike to the Kila Goenpa nunnery for superb views in all directions – the Haa Valley, Taktshang Goenpa, the Paro valley. Lunch at hotel. Afternoon drive to Thimphu, our capital. Dinner and overnight at hotel.
Day 4:
After breakfast, visit the National Library to see some unique and historic books. Our books are not hardbound in the typical manner. Next the traditional Painting School and then the Traditional Paper Factory. After lunch, souvenir shopping or more touring, as you wish. Dinner and overnight at hotel.
Day 5:
Day excursion to the 13th century Phajoding Monastery/ Overnight at hotel.
Day 6:
After breakfast, drive to Punakha, the ancient capital of Bhutan Punakha via Dochu Pass (3100m). On clear days there are excellent views of the Himalayas. Afternoon sightseeing of the Punakha and Wangdi valleys. Stay overnight at hotel.
Day 7:
Punakha Dromche Festival
Full day at the opening of the Punakha Dromchoe festival; enjoy festivities in the main courtyard of the spectacular Punakha Dzong. Stay overnight in hotel.
Day 8:
Drive to Trongsa with a stop for lunch at Chendebji Chorten. In the afternoon, make an excursion to Kuenga Rabten, an ancestral home of the Royal Family. Stay overnight at hotel.
Day 9:
In the morning visit the Dzong. After lunch, free time to explore the town, to hike, or enjoy the views from our hotel.
Day 10:
After breakfast, we begin our return. Our destination will be Wangdi. This is a slightly is a shorter drive.
Day 11:
Punakha Dromche Festival – CLOSING DAY
In the morning we depart Wangdi to go back to the Punakha Dzong for the last day of the festival. This day includes some very unusual events. You have to be there! Stay overnight at hotel.
Day 12:
Drive back to Paro from Punakha. We will stop in Thimphu for lunch, before continuing to Paro. Farewell dinner and overnight at hotel in Paro.
Day 13:
Drive to airport in time to check in for your early morning departure.